After the web-viral sensation "Gangnam Style," the "Gwiyomi" song became the new K-pop craze. True to the cute style of Gwiyomi, Hari's other singles are sweet, fun and easy to listen to.
That being said, Ayala Malls has prepared exciting activities and kicks off an energetic and vibrant vibe of the festive season with a performance from South Korean singer, Hari, who is known for the "Gwiyomi Song".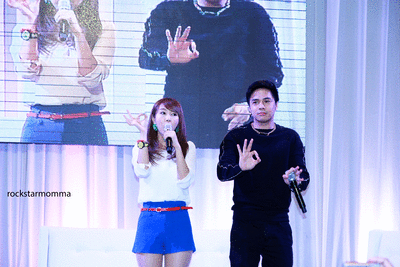 Hari performed the Gwiyomi song with singer and TV host, Sam Concepcion, at a press conference in Glorietta 5 last week.
Gwiyomi or Kwiyomi, a Korean slang used in reference to a cute person, quickly went viral since its released on February this year. But what exactly is the Gwiyomi song about? The cutesy song is about a Korean girl's proclamation of love for her boyfriend and how she endearingly wants him to promise that they will always stay together.
Inspired by series of cute hand movements involving the counting of numbers, the song's sweet and catchy tune was indeed a viral phenomenon as it received an overwhelming response from netizens and K-pop fans.
In Youtube, Hari's video has already reached millions of views with more and more people uploading their own version. The dance craze has caught on countries like Thailand, Singapore, Taiwan and even in the Philippines. Some local celebrities who did their own take of the Gwiyomi song are celebrity cosplayer Alodia Gosengfiao, Jasmine Curtis, Enrique Gil, Kathryn Bernardo and teen actress Ella Cruz.
Catch Hari in your favorite Ayala Malls as she performs live on September 6, 6:30 PM at the new Glorietta Activity Center; September 7, 6:30 PM at Marquee Activity Center; and September 8, 7:00 PM at Ayala Center Cebu Terraces. Hari will also have a meet and greet session on September 6, 1:00 PM at Trinoma Cinema Lobby.
Indeed, Ayala Malls continues to bring world-class talents to provide its shoppers not only the finest retail and dining experience but truly the best family entertainment as well.
For more deetss, Like
Warner Music Philippines
on Facebook, Follow them on Twitter and Instagram - @WMPhils.