Ahh, the things girls would do to have flawless skin.
Buy tons of makeup to cover up the skin, as well as magic creams then letting it marinate for hours. By the time they finished marinating and their skin is beginning to lighten up, the iPhone 8 and iPad 4 will be out...
I have nothing against using makeups 'cause I love makeups too! However, makeup and those icky, sticky magic creams can do one of two things.
A. Enhance your beauty or,
B. Make you look like you have a huge gunk on your face.
Remember, my friend, there's a fine line between fair and looking liked you rolled around in flour. What would you think if you see girls wearing whiter makeup than their skin tone and have a whiter face than their neck? Hmm... Galit sa makeup teh? Ms. Foundation Day?
But I'm not anti-make up. I just love when girls keep it natural and embrace their natural beauty. For some guys, there's nothing like being cuddled up next to some girl with soft, smooth, white skin. Smellin' like sweet papaya and all that. For most girls, nothing like having beautiful, glowing, flawless white and even-toned skin. And for some, life would be so much easier with nicer, smoother and whiter skin. :D Alam mo yan. LOL But then again, it doesn't give the right for other girls to be a bitch just because their skin is whiter than the other or by simply judging a person with the color of their skin. Sadly, some of those girls need to eat make up so they can be pretty on the inside and I bet they are beautiful until their Photoshop 30 day trial expires. lol
IMHO, we don't need to use a bunch of make ups and magic creams to have a flawless, white skin. All we need to do is to whiten our skin naturally. One surefire way is by using a soap that is made from natural ingredients and selected fresh papaya fruits extracted to produce the most effective way to whiten skin and eliminate bacteria that causes pimples and other skin blemishes. Read: YSA Botanica 2-in-1 Papaya with Kojic Acid. Papaya. Kojic Acid. The combination of these two active ingredients offer a fast, safe and effective skincare solution for noticeably fairer, even-toned skin in as litlle as seven days!
And that is why I start to wonder.. when God created papaya, did He think, "The extract of this papaya will whiten my children's skin." Don'tcha think?
Just take a look at Alex Gonzaga, the fresh and new face of YSA Botanica 2-in-1 Papaya with Kojic Acid. Dati pa extra-extra, ngayon byuting pambida! The Juicy! talk show host and TV 5's star of primetime teleserye "PS I Love You" has been tapped to be the radiant and bubbly endorser of YSA Skin Care's latest skin whitening line, the new YSA Botanica 2-in-1 Papaya with Kojic Acid.
"I'm so happy to be promoting YSA Botanica 2-in-1 Papaya with Kojic Acid," exclaims Alex. "First because it uses natural ingredients, which I always prefer because I try to avoid too much chemicals. Second, it's made by YSA, which has a great reputation for quality because it's headed by Dr. Isabel Lopez-Nazal, one of the most well-known dermatologists in the country. And third, because it really works! I've been using the product for just a few days and I've already noticed my skin getting lighter all over!"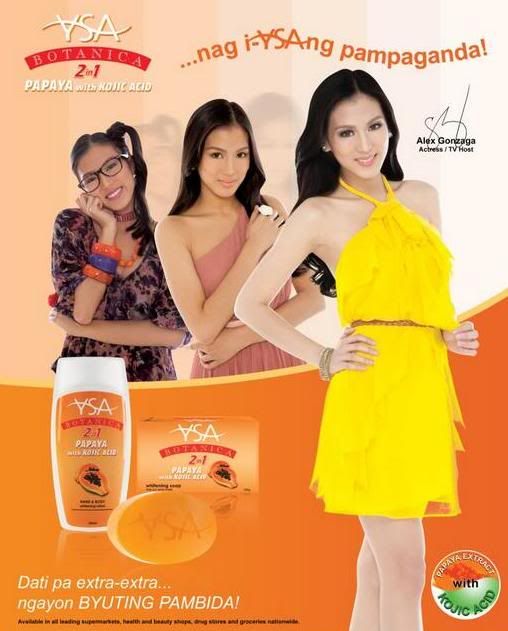 It's an effective skin lightening soap that combines intensive whitening plus natural exfoliating properties of both kojic acid and papaya enzyme. It has Papaya Extract –Vitamins A & C (Exfoliant & Anti-oxidant) and Kojic Acid that is safe to use to lighten pigment problems. It also has moisturizers to protect the skin from dryness, and whitening Agent that whitens the skin in just one week. Take note, in just ONE WEEK! :) If you want to know if it's true, why don't you try it and and the 7-day challenge!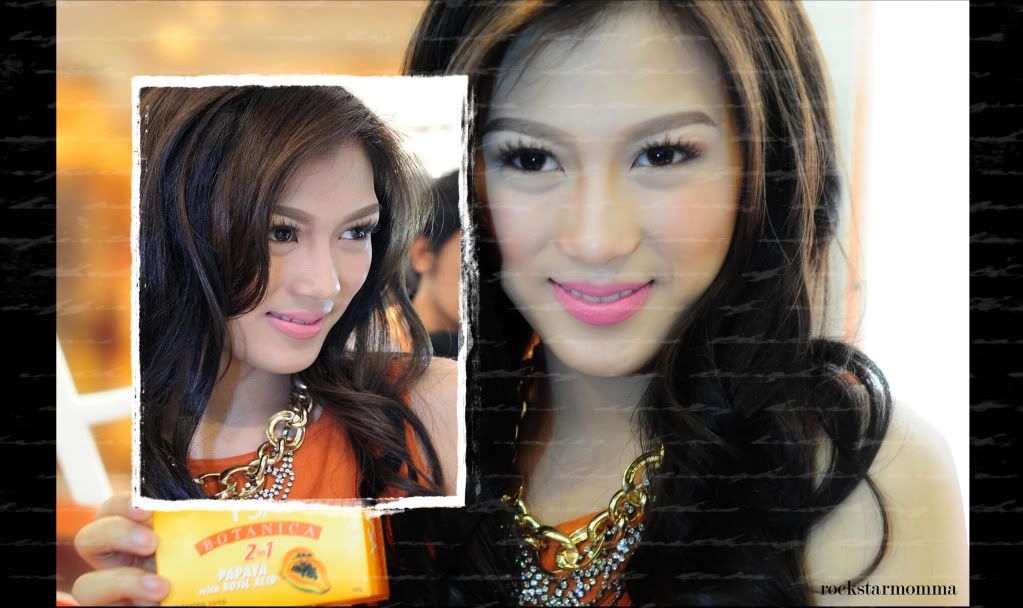 And yes, I even took the 7-day challenge and I've tried it! As for me, it's effective. It does even out my skin tone and it has an easy grip shape and more pleasant scent than the other whitening soaps I've tried before. Plus the appealing color of orange-ish makes me feel more refreshed and unlike other soaps, "Di sya madaling matunaw" and it keeps my skin really moisturized because of its additional moisturizing content.
Also, I've been blushing and having this huge smile from ear to ear all week because I had like 6 people that I met from 4 different blogging events this week who told me I look younger than my age. Ang saya lang! :) Btw, I'm turning 31. Hah! Can't believe how old I am already but I'm glad there's people telling me I look younger. And there's even a random person asking me what soap I'm using because she likes my skin. I believe healthy, glowing, white skin makes you look younger and one of the most important anti-aging strategies to look younger is by using a good skincare program that works for you. As for me, YSA Botanica 2-in-1 Papaya with Kojic Acid works wonders. :)
YSA Skin Care Center has always been at the forefront of cosmetic dermatology and surgery for over 20 years now. It is one of the pioneers in introducing the latest technology in its field even prior to the popularity of treatments like lipodissolve, Intense Pulsed Light and modalities like laser treatments to name a few.It offers state-of-the-art technology to address its patients' needs for more convenient and effective dermatological and surgical treatments with no down-time. To keep abreast with the fast changing technology, its medical team comprised of certified dermatologists, plastic surgeons and doctors are sent abroad for various medical conventions, continuous education and hands-on training with foreign medical experts.
Their mission? To make people beautiful, happy & confident.
They have recently created a beautiful partnership with Watsons Personal Care. YSA Botanica 2-in-1 Papaya with Kojic Acid is now available at all Watsons outlet.
YSA Botanica's gorgeous endorsers
Buy 1 Take 1 :)
They also have the BUY 1 TAKE 1 promo! That's for the soaps though.Happy Yipee Yehey girls/dancers not included. hihi
And here's one of the highlights of the event, the yummy churros dipped in thick, hot choco. My favorite comfort food. Heaven.
Go visit YSA Botanica's website
HERE
and like them on Facebook
HERE
! :)