Glad I managed to wake up at 3 am yesterday to join the highly anticipated
The Color Run Dream
, and it was nothing short of amazing.
CTTO Photo: Zion Punzalan
It was the very first color run in the Philippines brought to us by UNICEF Celebrity Advocate for Children Anne Curtis through her Dream Machine Foundation. It's a run for a cause where its proceeds will go to UNICEF's work to improve healthcare for children with disabilities. Indeed, it was the "
happiest 5k on the planet
" for over 10,000 eager runners at the SM Mall of Asia Grounds.
Photo: Alanah Torralba
Here, five things that amazed me at the
happiest 5k on the planet
:
Photo: Alanah Torralba
1. The Splash of Colors
If I could describe the Color Run Dream in one word, vibrant would be it. The moment the race started, the magical color zones as well as the frothy foam and bubble zone transformed the SM Mall of Asia grounds into a place bursting with an amazing splash of colors. We were doused from head to toe in colored powder, while also running our way through dreamy foam clouds and taking hundreds of photo ops!
Photo: Ed Uy With my friends Rochelle of www.rochellerivera.com and Lou of www.lemongreenteaph.blogspot.com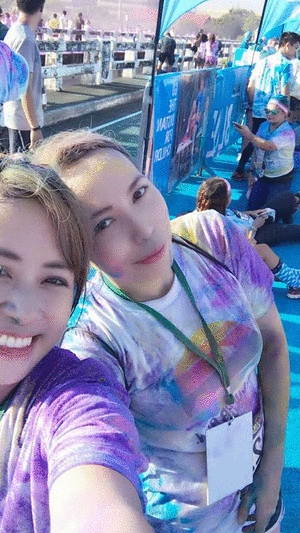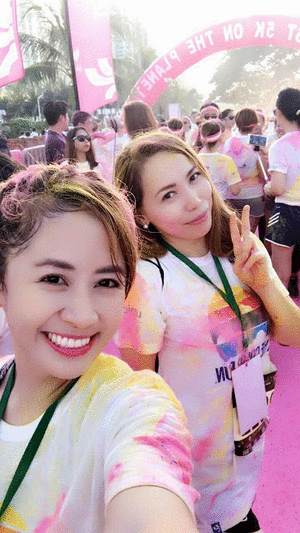 We started off skin-colored, fresh and super clean, but by the time we reached the finish line, we were all covered from head to toe in gloriously rainbow bright powder and ended up looking like a unicorn puked on us. LOL I really like it though because that's the closest I can get to looking like a unicorn.
Photo: Alanah Torralba
Anne's celebrity friends including Carla Humphries, Nico Bolzico, and Anne's fiancé Erwan Heusaff joined the fun run too!
I wasn't able to prepare for this run so it's a good thing the 5km run was untimed, so there was zero pressure. Also, there's enough water and B'lue flavored water drinks at the water stations along the course to keep us hydrated.
But that's not all. We were showered with water, played with foam, and left in awe with the massive color throw at the after party with none other than DJ Tom Taus!
2. The Proposal
Some Color Runners joined to support the advocacy, while others participate for reasons unique to them. Turned out one of the runners finished the run to pop up the much anticipated question (Will you marry me?) to her girlfriend. Of course, she said Yes! :) Congratulations to the newly engaged couple.
Photo: Alanah Torralba
Watch this super kilig moment:
3. The crowd's infectious energy
This is the only race where the marshals didn't have to do much to get the crowd moving. Even before Anne Curtis started running, the crowd at the start chute was Anne-belivably excited to start the 5k run, which was set off with multiple waves every few minutes.
Throughout the race, the color runners didn't show any signs of slowing down and stopping too. And even at the post-race party, they (I mean, we) pretty much screamed our lungs out with every song, and jumped and raised our hands. #YOLO
Photo: Alanah Torralba
Also, the Color Run withdrawal symptoms are very real. Even after the party ended, I heard the other runners chanting "Annesaya!" and dancing their way to the nearby parking area. Crazy, right?
Photo: Rochelle Rivera
4. The Unicorn Medal
Aside from the limited edition tee, headband, spectacles, cutie socks, and temporary tattoos, the runners received a shiny Unicorn medal at the Finish Line. I repeat, it's a unicorn, and it's 90% cooler than the other medals I've ever had. It's like a little reward for going the extra mile to help the children with disabilities and seeing the big smiles on their faces. And that, my friend, made it a priceless one.
5. Anne Curtis' unrelenting energy plus her untiring and unwavering support for children
One thing that amazed me was Anne's non-stop energy throughout the 5k run and post-race party. She is such an inspiration to all and I really admire her for giving more disabled children a chance to dream in colors. After running 5k, she even stayed at the finish line screaming her lungs out and cheering for the disabled kids who joined the 500 meter run. Like Anne, the kids are truly inspiring.
Photo: Alanah Torralba
Meanwhile, while I was struggling to catch my breath, I wondered how Anne found the energy to keep going throughout the two-hour after-party. She was constantly dancing, jumping and spinning around, and running back and forth the stage while singing. Um, it must be Enervon. *wink*
Children with disabilities are just like any other children. They want to be seen and heard, to be loved, to go to school and be useful members of the society. UNICEF is working to give them access to health services that will enable them to have a fair chance in life. All the funds raised in the run will help us bring these services to all children with disabilities in the country
," said UNICEF Country Representative Lotta Sylwander.
Super happy (like over-the-rainbow happy) that I was able to finish the 5k color run with flying colors. It's really an amazing experience to be part of such a meaningful and colorful event. I was thinking less about my personal best and more about spending a day of endless rainbows, laughs and good times with my besties! Annesaya! Sobraaaa!
But it's more than just about the fun factor, bes. It's a run for a cause, and even while we're running to support the disabled children, we're helping ourselves too by getting involved and getting active.
Thank you, Anne Curtis and Dream Machine, for an incredible experience that taught me how to believe in magic, dreams and unicorns. Poof! Insert a unicorn-related quote here. :) Seriously, I love how she inspires dreamers like me. That being said, let's dream big and make it happen.
Presented by Dream Machine and organized by RunRio, The Color Run Dream for the benefit of UNICEF is made possible through the support of SM Mall of Asia, Cherry Mobile, Enervon, Jollibee, PMX, Swatch, Vivia Artists Agency, Audi, B'Lue, Salonpas, Toy Kingdom, Viva Live and Maynilad.
Visit
www.dreammachine.ph
for more deets and follow @
dreammachineph
on Instagram, Facebook, and Twitter.
P.S. Don't forget to join my giveaway. Over Php50,000 worth of prizes are up for grabs! :) Follow me on
Instagram
for more deets.