In the famous Bond flick, James Bond orders his martini by uttering these words, "shaken, not stirred."
Spirits and mixed drinks are indeed slow food. So if somebody requests that the drink be shaken, then that's how it should be made. Shake it if you must. It will yield a drink that's just as cold as one that has been lovingly stirred for a longer period of time. Also, the sight of a bartender shaking the drink with some booty shakin' is something that people enjoy to watch.
I needed a stiff drink after last month's craziness, so ending the week with a mixology event at Solaire, one of the most prestigious hotels in the country, worked out perfectly. I learned how to muddle, measure ratio and proportions, make infused simple syrups, and how to shake a drink the right way at Solaire's Mixology event.
Finestra, one of the posh and swanky restaurants in Solaire that offers authentic Italian dishes, was the ideal location for the event, with its elegant decor and natural light made for a perfect afternoon setting.
Solaire mixologist, Mr. Ryan dela Cueva, taught us the basics of mixology. We had a great time learning tips from a pro and mixing up delicious drinks. Provided with all the tools and ingredients we need to mix up drinks, we started with the first drink, the Duchess.
The Duchess
It's a dessert cocktail that's more feminine as it is sweet. Bourbon whisky marries perfectly with a trio of drinks namely Chambord, Cherry Herring and Cranberry Martini. We mixed it all into the shaker with ice. Shaked 'em then poured it in a martini glass. Lastly, we put the mango-pomegranate espuma or foam on top.
Margarita with Agave Caviar Pearl
Next is the Margarita, a classic all-time favorite cocktail. It is made with equal parts of cointreau, lime juice and demerara sugar plus a splash of Reposado Tequila, and Agave caviar pearl and pandan leaf for a garnish. What I love about this drink is the Agave caviar pearls that gives it an exquisite taste. If you ask me, that's the way a Margarita should be made.
Smoked Russian
Smoked Russian is a variation of Black Russian cocktail. Nothing soaks up a Black Russian like Smoked Russian.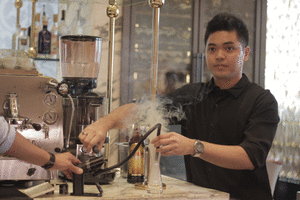 Don't get smoked and get drunk at the same time. :)
It's a mixture of vodka infused with hickory chips smoke using the smoking gun and Kahlua infused with tobacco for an hour. Added by a cinnamon stick to garnish. I think this one's best suited for men, on the rocks!
The creativity and imagination of these mixologists is endless! These cocktail spheres certainly surprised me as it exploded in my mouth. The burst of flavors, texture, and its surprising presentation is something unique, interesting and well, very surprising.
Aged Negroni
Aged Negroni, a popular Italian cocktail, is a mix of Campari, Campano Antica and Hendricks gin, aged in an oak barrel cask for 1 month. To decorate it, there's an orange ice ball using the Japanese ice ball that is worth half a million pesos.
After mixing some cocktails, Mr. Dela Cueva asked us to pick our alcohol of choice and mix our own signature cocktails. There are tons of different syrups and spirits and everyone had fun practicing their skills and experimenting with new flavors.
Our group made our own concoction and named it Finestra Sunset. It's a cranberry juice infused tequila, with a hint of mint and tonic water , garnished with a slice of orange on top. We nailed the presentation but not the taste. However, we had so much fun mixing and shaking it! :)
We also had the chance to visit the following restaurants and bars inside Solaire Resort and Casino;
Strip Steakhouse - Solaire's signature Steakhouse that provides the finest mouth-watering tender cuts of meat. I was blown away with its wide selection of wines and a stunning cellar.
Yakumi- The place to go if your passion is Japanese food.
Red Lantern- If you're looking for authentic Cantonese cuisine, their sumptuous menu won't disappoint.
Dragon Bar- It's where guests can relax and enjoy cocktails, wines and liquors while watching the action on the casino floor.
Eclipse bar and Lounge- – Perfect place to catch up with friends and enjoy amazing cocktails.
Lucky Noodles - Casual ambiance to discover sumptuous Cantonese and Northern Chinese noodles, dimsum and other surprising dishes. Their Curry Laksa is the bomb! *wink*
The Solaire Mixology event was a blast and it brought science to the shaker to create new flavors, textures, and amazing presentations to enhance the overall drinking experience. Now who wants a martini? Shaken or stirred?
With Solaire Mixologists, Bartenders and fellow bloggers at the #SolaireMixology event.
Thank you so much to the amazing Solaire Team, Myk Cruz and Ms Divine Reyes of Filipino Bloggers Network for the invite.
Solaire Resort and Casino is located at #1 Asean Avenue, Entertainment City, Tambo, Paranaque City.
For more info, visit their website
http://solaireresort.com/
"Like" them on Facebook
https://www.facebook.com/SolaireResort
Follow them on Instagram
http://instagram.com/SolaireResort
Don't forget to join my 1 Million Pageviews Giveaway
here
! You can also win a spampering treatment at Thai Royale Spa
here
! Have a blessed weekend everyone!