French women are known for being sophisticated and elegant. They wear simple yet chic outfits partnered with the most stylish accessories. They will not be caught leaving the house as well without spraying on their favorite fragrance.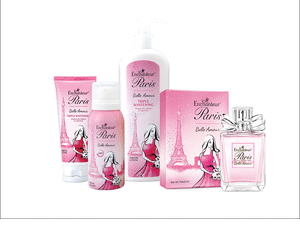 Now, being your own Parisian woman is easier as Watsons brings Enchanteur Paris to the Philippines. Enchanteur Paris is a range of high quality and timeless French-inspired fine Eau de Toilettes (EDT) and fragrance-infused body care products for young women. Watsons now makes it easier for Filipinas who love to smell good to choose her signature scent from this line of quality but affordable EDT.
There are four Enchanteur fragrances for different personalities. These lovely and enchanting scents were inspired by the romance of Paris, the City of Lights, and the chic aesthetic of French women.
Magique is for the carefree, confident and adventurous girl. This magical mix of apple, magnolia and praline is perfect for a day out with her sweetheart as you try fun and new things together.
Belle Amour is for the romantic sweet girl on her first date with a special person. This is a captivating blend of apple, melon, blackcurrant and pink rose scents that would make her date's heart beat faster.
Mon Amie is for the fun, cheerful and charming girl. She can wear this breezy scent of fresh citrus, red apple and pink peonies on an exciting adventure with friends.
Adore is for the elegant, graceful and adorable girl. She likes the sensual scent of wild jasmine, pink mimosa and golden pear. This alluring fragrance evokes glamor and sophistication.
All four Enchanteur Paris fragrances strike the perfect balance whether you want something light, fresh, sparkling, elegant or sensual.
Enchanteur Paris also shares a French woman's secret to making her fragrance last longer and that is through complementing the Eau de Toilette with the Parfum Lotion, Parfum Serum, Deospray and Hand Cream. With these products, your chosen Enchanteur Paris scent will linger and enchant the whole day.
Enchanteur Paris Fragrance's Joana Marie Atienza and Krishna Kulkarmi
Mishen Hernandez Brand Manager Watsons Exclusives
Ms. Viki Encarnacion Watsons Marketing Director
Enchanteur Paris is exclusively available at all Watsons stores nationwide and The SM Store-Beauty Section. The Eau de Toilette retails at Php400, Php100 for the Hand Creams, Php129 for the Deosprays, Php210-Php275 for the Parfum Serum and Parfum Lotions.