Friends, it's time to take the wet weather head-on this season! Chances are, you have a stack of Chucks somewhere in your room, or you already own the basics (and the classics) but you probably don't have a waterproof one. So why not branch out with kicks that combines classic sneaker designs with premium weatherized features. Enter Converse Counter Climate.
Speaking of Converse, I attended the Converse Fall-Holiday 2016 Media Preview last September 5, 2016 at the Sky High Bar, Ace Hotel and Suites, Pasig. Media allies from television, print and digital world and more than 10 celebrity influencers graced the event with acoustic performances by KA & Z and 90's iconic rock band, The Dawn.
Check out this round up of new kicks that will surely cure your rainy blues.
With my daily loves Martin and Jen. Photo credit: Ms. Odette Velarde and Jen Aspacio of Kikaycorner.net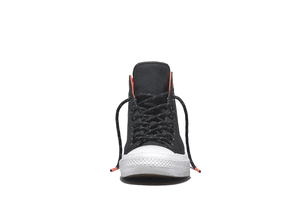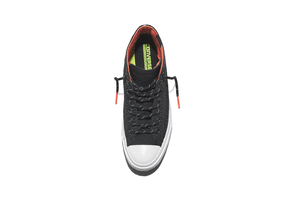 Converse Chuck Taylor All Star II Shield Canvas
Designed for the Chuck Taylor lover who can't give up their Chucks (read: me) no matter what the weather, the new Converse Chuck Taylor All Star II Shield Canvas sneaker combines the enhanced comfort of a Lunarlon sockliner, non-slip padded tongue and micro-suede lining with materials that can also withstand most climate challenges.
Converse has added a water repellent Shield Canvas and a gusseted tongue, as well as removing the medial eyelets to make a durable sneaker that is ready for wet and rainy adventures. The Shield Canvas sneakers have been given a durable water repellant (DWR) treatment, perfect for the rainy season.
The sneakers also feature reflective heel webbing and barrel laces for added visibility in low light environments. I really love it, so you'll surely love them, too. :)
Available colors: Black/Volt, Black/Reflective, White/Lava, Black
Suggested retail price: Php 4,550
The new collections provide the necessary tools to combat the climate shifts while emphasizing essential weather-beating benefits. The innovative sneaker collections feature a bold mix of colors and materials including water repellent canvas, rubber and leather, and waterproof neoprene. Divided into three unique categories: Shield Canvas, Leather and Rubber-- these collections are intended to stand up against the unpredictable inclement weather.
Each sneaker has been treated to help tackle rainy weather while maintaining comfort and style. The Converse Counter Climate Shield Canvas sneakers have been given a DWR (durable water repellant) treatment, standing guard as the first line of defense against the rain.
For the holiday season, both new and time-honored styles endure the harsh elements with the Counter Climate Rubber collection. These rubber sneakers are winter-ready with water resistant material and heat retention.
Converse Chuck Taylor All Star II Rubber
Another iteration of the Chuck II will also be releasing this fall - the Converse Chuck Taylor All Star II Rubber. By incorporating a transparent rubber overlay on the iconic Chuck II silhouette, this allows for the sneaker to breathe while repelling water and protecting feet from the elements. The sneaker includes all the features and benefits of the Chuck II such as a Lunarlon sockliner and a non-slip padded tongue, while adding a beautifully crafted dimensional canvas for breathability, micro-perforated leather lining for comfort, and a heat reflecting barrier at the footbed for warmth.
Available Colors:
Suggested retail price: Php 5,430
Converse Cons One Star Shield Canvas
This season, the Converse Cons Star also receives the Shield Canvas treatment, combining the enhanced comfort of a Lunarlon sockliner with a lightweight and breathable canvas that can also withstand the rain. Added features include a gusseted tongue and removed medial eyelets allowing the sneaker to tolerate wet environments. Traction rubber has also been incorporated to the outsole, providing additional grip.
Available colors: Black, White, Obsidian
Suggested retail price: Php 4,250
Converse Jack Purcell Signature Twill Shield Canvas
The Converse Jack Purcell Signature collection introduces a thicker Shield Canvas with a water repellent finish, and a tri-color reflective heel stay. A mesh lining backing the shield canvas regulates temperatures across a range of climates while still keeping the sneaker breathable. Reflective laces add flare while a gusseted tongue construction will prevent water from seeping into the dual pod Nike Zoom Air insole technology.
Available colors: Inked, Natural
Suggested retail price: Php 5,590
Converse Jack Purcell Signature M-Series
This fall, Converse introduces a high top silhouette combined with Counter Climate Shield Canvas. Warm, durable and water-repellent, it delivers all-day, on-the-go comfort. The Shield Canvas complements features like Lunarlon insole cushioning, heat regulating mesh lining and a tri-color reflective heel tab for enhanced visibility in low light.
Available Colors: Hot Cocoa, Black
Suggested retail price: Php 5,430
Converse Essentials
The collection features quality and durable everyday basics for your active, on-the-go lifestyle. Constructed for comfort and fit, the Converse Essentials collection will get softer with time. Each piece includes a natural color fade of fabric with long-term wear, durable stitching, and a managed shrinkage fit that remains the same throughout the lifespan. The collection includes the Converse Essentials Tee, Converse Essentials Pullover Hoodie, Converse Essentials Full Zip Hoodie and Converse Essentials Jogger.
Available Colors: Black. Grey, Obsidian, Egret
Suggested retail price: Ranges from Php 899.75 to Php 3,339.75
The new Fall/Holiday 2016 Converse Counter Climate Footwear Collection and Essentials are now available at Converse stores nationwide. Visit or
www.facebook.com/ConversePhilippines
for more! #
ConversePHCounterClimate